Mission Statement
Our Mission statement is taken from 1 John 1:7 " But if we walk in the light, as he is in the light, we have fellowship with one another, and the blood of Jesus, His Son, purifies us from all sin."
Our mission is to encourage participation in activities for those 55 years and older and retirees. The intent of this ministry is to foster spiritual growth and well-being, through Faith, Focus and Fellowship.
PAST TRIP TO
NOAH'S ARK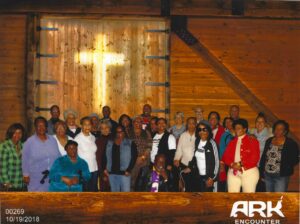 Some of the annual activities have been:
Discussions with the Pastor

Fire Safety demonstrations

Movies

Ball games

Plays and musicals

Game nights

Out of state trips

Volunteering at the soup kitchen
For further information you may contact our Overseer, Bro. Andre Duncan.
Our meetings are held every third Thursday of the month at noon except July and August.
During these luncheon meetings we provide information and activities with the alternating topics of Faith, Focus and Fellowship. The annual fee or the luncheon
is $40.00 or $7.00 per luncheon. This fee is subject to change.