Phillipians 4: 6-7 "Be careful for nothing, but in everything by prayer and supplication with thanksgiving, let your request be made known
unto God. And, the peace of God, which passeth all understanding, shall keep your hearts and minds through Christ Jesus".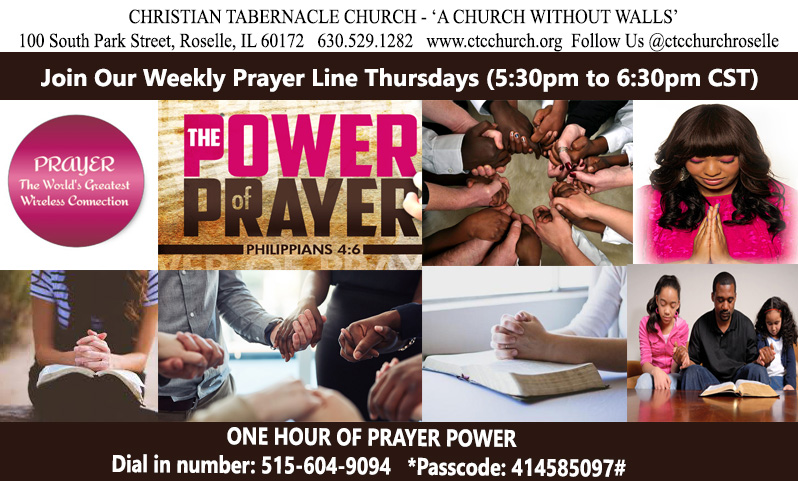 During the COVID-19
Outbreak, we are not meeting in-person for our Intercessory Prayer meeting but we are still agreeing in prayer. An open prayer line has been established and
Pastor Robbie invites you
to join him in prayer each
Thursday evening from 5:30p.m. – 6:30p.m.
The toll-free number is: 515-604-9094, the PassCode: 414585097#.
Add Your Request To Our Prayer & Praise List
If you have a prayer request or a praise report, please let us know. Our intercessors will prayer over your need and rejoice over your testimony. Here are some intersections to prayer and praise!
Members of the Prayer Team as well as the church at large receive the church's printed prayer list each week and will pray for your requests. You can add your request to this list in one of three ways:
Call the church office with your request and contact information (630) 529-1282.

Contact us online by completing the form below.

At the church in the sanctuary – use the prayer form behind the prayer box. Simply write down your request


or praise report and place the form in the prayer box.

In addition, you are welcomed to attend our Weekly Community / Corporate Prayer in the CTC Sanctuary. Join the Prayer Team as we assist the Deacons on Thursday night at 5:30 pm. Corporate Prayer happens when at least "two or three Believers" are present in one place, their unity of faith and prayer being of such a degree that when they harmonize together in agreement with God's Will and His Word, God intervenes and brings to pass the specific request. In Matthew 18:19 – 20
it states Believers may ask for anything and He will command His blessing!


Ministry Contact: Intercessory Prayer Coordinator, Sister Lois Sharp – (630) 529-1282.
Have you recently made a commitment to Christ? Please share your great news with us and let us know how we can help. Use the mailbox below.